icke39 hat geschrieben:@Frank

Markingtime sagt eigentlich nur, dass der Linsentausch ein Pain in the ass ist, also schwer und kompliziert. Außerdem nur als allerletzte Möglichkeit gemacht werden soll, wenn gar nichts mehr geht. Das Problem ist die Einstellung der "Verschiebung" oder "Verdrehung" sodaß das Leuchtfeld so ist, wie es sein soll. Das geht manuell fast nicht.

Die beste, einfachste und wahrscheinlich wenn man alles zusammen nimmt die günstigste Variante ist: Deutsche/EU Scheinwerfer eines LHD kaufen (gebraucht geht auch) und einfach wechseln. US geht nicht, da kein E-Zeichen.

@Markingtime
Nope. The difference between them is, the TÜV approved lenses are set for LHD and always have the E-sign, the GTO lenses are for RHD and have an E-sign(UK) or not(JPN). But I honestly have no idea if they are interchangeable left to right, or if they are set for one side. When you talk about the lense, you mean the bubbleshaped cover in front of the lamp? (See picture from Daniel?)
What is exact funtion of the lense? Amplify the amount of light or also distributing it at a specific angle? Anyone any ideas?
The "pain in the ass" (PITA) issue I was referring to was that once you have the top off the headlight bucket (which is its own PITA) that finding a way to reverse the 1.5 degree left/right aiming offset from RHD to LHD is the serious PITA. The headlight buckets for LHD and RHD cars were specifically molded for those markets and were not designed to be reversable.
As for headlight lenses I have run across 3 kinds: clear, frosted, and clear in the centre with a frosted halo. In the US and Japan the low/main beam (outside lights) was totally frosted to diffuse the light and the high beam (inside lights) were were completely clear. In the UK the low/main beam (outside lights) were clear in the centre with a frosted halo, presumably for less diffusion and greater distance. See pictures below
US Spec lights: notice the left low beam is frosted compared to the clear high beam on the right.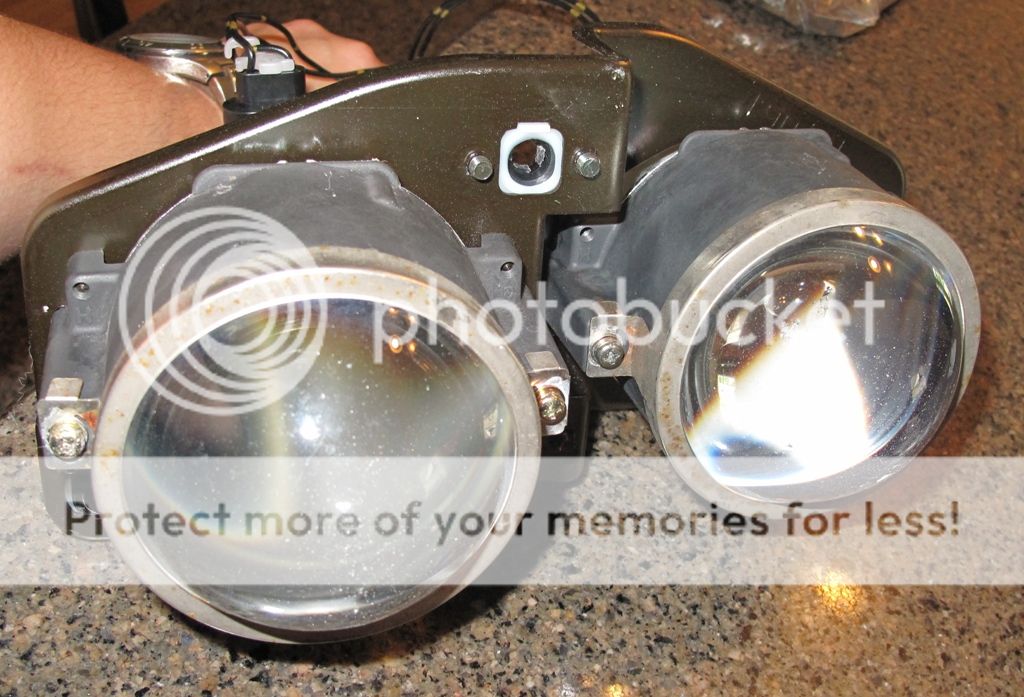 GTO (JDM Spec) low/main beam light: better picture of the frosted surface.
UK Spec low/main beam light: the clear center and frosted halo is clearly visible. Since there are a lot of commonality between EU and UK specifications perhaps your EU Spec cars also had these?
Here is a blurry picture of a removed lens. It is a solid semi-sphere and reminds me of a paper weight you would have on your desk with a picture pasted to the underside.
I believe all lenses between all 3000GT/O versions are easily interchangeable by just removing the 2 screws that hold the lens retainer ring in place, regardless of RHD or LHD. The left/right aiming issue is molded into the projector housing that holds the lenses which is why changing that angle requires some cutting. Much better to buy LHD lights!!